Gosset Excellence Magnum
Types:

White Sparkling

Capacity:

1,50 L.

Alcohol content:

12,0º

Country:

D.O:

Varieties:

Chardonnay, Pinot Noir, Pinot Meunier
Stock
AVAILABLE

Have you tasted this product?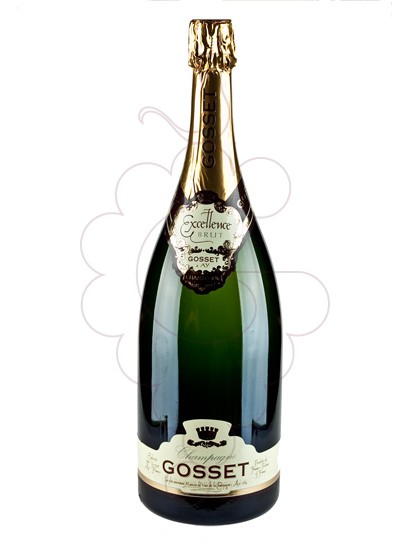 Gosset Excellence Magnum
INFORMATION OF INTEREST Gosset Excellence Magnum
TASTING NOTE
Colour: A crystal-clear appearance, pale golden colour with yellow hue. Fine effervescence, lively and imperious, evenly distributed throughout the glass, fed by a constant stream of lively bubbles. Light and lasting ribbon.

Aroma: The first sensation in nose is intense, elegant and warm, first and foremost a vehicle for mellow, potent yet very fresh floral notes, such as honey suckle, wisteria, white jasmine and vine blossom, rapidly giving way to mature, fruity aromas, from delicately perfumed melt-in-the-mouth garden pears to the sweet, more identifiable perfumes of exotic fruits, such as pineapple, guava and mango. On pouring, from this "protective", rich and complex yet not overbearing cocoon arise subtle hints of butter and caramel followed by a warm fragrance of gingerbread and cinnamon. The finish reveals a trace of pear liqueur to complement the overall harmony of the olfactory sensation.

Taste: On first taste is invigorating and jubilant, a taste which is both fresh and delicate, following on from the initial sensation of crispness and a well-established vitality to suggest the richness of a blend where floral aromas have all but disappeared, replaced by the sweet and comforting flavours of ripe, fleshy fruits, such as bush peaches, nectarines and greengages. His mouthful deploys great volume, a profound density and vinosity, which are characteristics of this type of champagne, whilst the blend remains discrete. An earthy taste with hints of minerals released from sun baked stones can be detected, revealing the subtle fragrance if spices, such as cinnamon, cardamom and green pepper. On finish is smooth, delicate, irresistible, where deliciously sensual flavours of candied fruit, cinnamon cake and liquorice can clearly be identified.
MATCHING
We can take it with saltwater fish, such as bass, thornback ray, dory, sole, turbot, with a sea-salt, coating, grilled, fried or roasted, served on the bone. Perhaps garnished with simple or elaborate citrus fruit or butter sauces or served in their own juices; free-range poultry, such as chicken, farm-reared guinea fowl, young duck from Nantes or Ruen reared in their own habitat, or hay and cabbage-fed rabbit, which may be braised, roasted or casseroled.
ADDITIONAL INFORMATION
Talk of the maison Gosset, is talking about the history of Champagne, is translating into a wine all the magic of tradition that holds the oldest wine cellar of Champagne, created in 1584 in Ay, in the center of the region.
For over four centuries, the philosophy is to perpetuate an elaboration Gosset prohibiting malolactic fermentation to preserve the natural aroma and fruity wines. Is respect tradition and cottage industry, a wine key and appreciated in the courts of Francis I and Henry IV, before knowing the magic of bubbles.
Is know the maximum expression of a beloved homeland and explicit. And, above all, be seduced by the smoothness and creaminess that leaves the palate, through the indelible memory of its passage through the mouth.